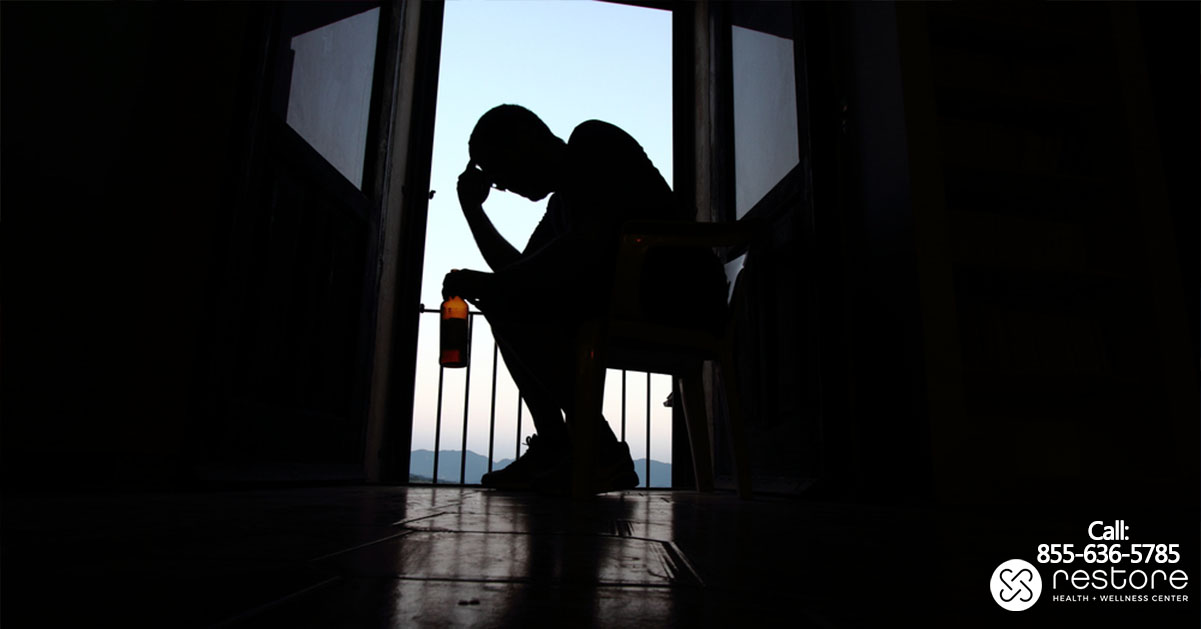 Alcoholism and depression go hand in hand. According to the Anxiety and Depression Association of America (ADAA), more than 15 million Americans suffer from depression, and according to National Council on Alcoholism and Drug Dependence (NCADD), 17.6 million Americans suffer from alcoholism. Millions more suffer from binge drinking and other alcohol abuse disorders.
Many individuals say they drink to combat the symptoms of depression, and while a little bit of alcohol can appear to relieve anxiety, in general, alcohol abuse among depressed individuals often simply leads to more depression. In part, this may be because alcohol can harm the brain in both the short and the long term. In the short term, alcohol users are more likely to make harmful decisions that they will regret later.
These often include:
Engaging in unprotected sex

Committing uncharacteristic acts of violence

Using other drugs, such as cocaine or opiates
In the long term, alcohol may damage parts of the brain involving decision-making and emotional regulation, which may make it more difficult for patients to use healthy coping skills to reduce the symptoms of depression.
Depression, Genetics, and Environmental Factors Often Drive Alcohol Abuse, Say Researchers
A report published by the National Institute on Alcohol Abuse and Alcoholism (NIAAA) indicates that more than 30% of individuals with major depression also have an issue with alcohol abuse.  
Research also shows that teens who've had a major depressive episode are twice as likely to begin drinking alcohol compared to those who haven't.
In addition to directly making the symptoms of depression worse, alcohol abuse can indirectly worsen depression because it often makes antidepressant medications less effective. Consuming large amounts of alcohol can also create dangerous interactions between alcohol and other medications, such as benzodiazepines used to treat anxiety or stimulant medications used to treat ADHD, such as Adderall or Vyvanse.
Overall, an individual's propensity for both depression and alcoholism may be heavily influenced by his or her genes, however, environmental factors and personal choices are also a major contributor to these conditions. For example, people who grew up in poverty and individuals who were mistreated as children both seem to have a higher propensity to develop both depression and alcoholism than people who did not experience these environmental conditions
Effective Dual Diagnosis Treatment for Depression and Alcoholism Often Involves Both Therapy and Medication
Co-occurring disorders such as depression and alcoholism nearly always interact with each other, and that means that dual diagnosis treatment is essential in order for patients to attain optimal physical, mental, and emotional health. Dual diagnosis treatment for these individuals will simultaneously combine therapeutic approaches to deal with both the patient's addiction and their underlying mental health disorder.
Specifically, many medical professionals find that therapeutic methods like cognitive behavioral therapy (CBT) are most effective at treating these co-current mental health conditions, as they simultaneously combine both changes in an individual's method of thinking and changes in the individual's lifestyle choices.
Despite the importance of therapy as the first choice for most alcoholism and depression patients, medication can still play an extremely important role, especially for those who are not responding well to therapy.
Some commonly helpful medications include:
Antidepressants, including commonly-prescribed SSRIs, may be able to help an individual better deal with depression, anxiety, and OCD

Disulfiram (commonly branded as Antabuse) can often help a patient learn to reduce or completely stop their alcohol consumption by creating adverse effects when a patient drinks alcohol

Naltrexone (commonly branded as Vivitrol) can also help patients avoid alcohol by reducing cravings, as well as by limiting the pleasurable effects of drinking
We Offer Dual Diagnosis Treatment Programs at Restore Health and Wellness Center
Facing a dual diagnosis of alcoholism and depression can be extremely challenging, even for those who truly want to live a sober and healthy lifestyle. Depression can often lead to alcohol abuse, which in turn, only leads to more depression. To escape this destructive cycle, patients need to seek treatment for depression and alcoholism in order to learn safe, effective, and healthy coping mechanisms to deal with their emotions.
At Restore Health and Wellness Center, we're passionate about helping each and every one of our patients achieve sustainable, long-term sobriety. We provide individualized dual diagnosis treatment programs for the treatment of co-occurring disorders.
Treatment plans combine both evidenced-based, traditional therapies, and holistic treatments to ensure the best outcome for lasting recovery. Restore's dual diagnosis recovery programs address the physical and psychological aspects of addiction, and teach patients the skills needed to cope with addiction and mental illness in a positive and healthy way. Visit our addiction treatment center in Simi Valley at 6918 Owensmouth Ave Canoga Park, CA 91303. 24/7 Admissions (818) 722-9019. On-Site Contact (818) 806-3914.
Sources:
---