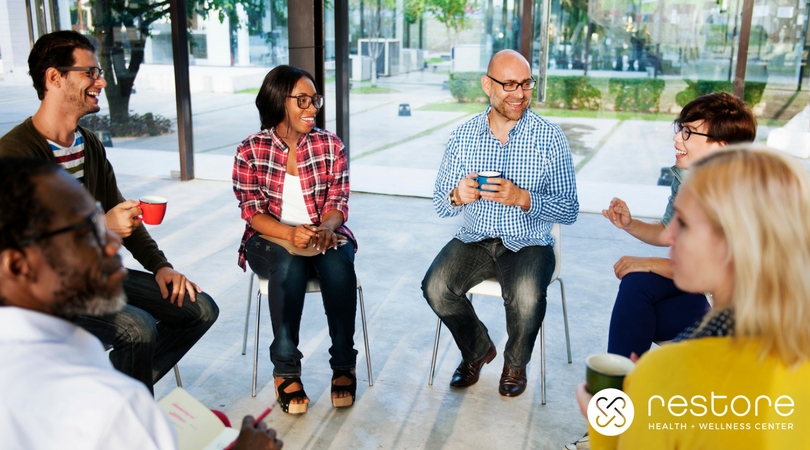 Recovery doesn't happen overnight, and it isn't straight-forward. For those who are attending some form of formal treatment, life begins after one exits the bubble of rehab and returns home to experience the real world head-on. Employment comes back, maybe family begins to wonder about your absence, and friends want to sit down and catch up over a drink. For some, this can feel like a lot – almost too much. So, what do you say? Where do you turn to for camaraderie and help?
While in treatment, you'll learn the importance of attending 12-step meetings such as Alcoholics Anonymous or Narcotics Anonymous. For many, these meetings bring a sense of belonging and are crucial to staying sober long after the initial phases of treatment. Because these programs could not exist without a community of people supporting each other, the importance of meetings cannot be understated.
Some of the most common twelve-step support groups include:
Alcoholics Anonymous
Narcotics Anonymous
Pills Anonymous
Cocaine Anonymous
Al-Anon (For the family of addicts)
The Benefits of Twelve Step Meetings
The first few weeks and months after quitting alcohol or drugs are usually the hardest. It's also when newcomers are most vulnerable to relapse. Additionally, this is when people new to recovery are most confused and overwhelmed by sobriety. Questions may frequent their minds about why they should keep coming back to meetings if they're out of treatment. Why do these meetings keep alcoholics and addicts sober? Why have people been attending these meetings for years with like-minded people battling the same issues?
Meetings overcome loneliness and isolation
The shared space of meetings can help debunk the addictive thinking that one may develop while alone. When you're alone, there is a greater chance one's thinking will convince an addict that they can have "just one" mind-altering substance which originally brought them to meetings in the first place.
Meetings provide a connection with others that have been through the same thing
Twelve-step meetings provide the chance to not only get to know others but to be known. In sobriety, the sense of connectedness with like-minded individuals is crucial to establishing a solid foundation of success. Ultimately, pain can be divided and joy can be multiplied. When times get tough we can go to these people who may know exactly what we're going through, creating a sense of belonging.
Meetings provide honesty and accountability
The great thing about anonymous meetings is just that. These meetings can allow you to be honest with your progress, setbacks, triggers, and struggles – even when you're uncomfortable. In these types of settings, there is no worry of judgment or repercussion in being honest, since each person sitting in the room has been through the same thing.
12-step meetings are represented in nearly every city in the world each and every day. It is estimated that there are over 66,000 AA groups in the world with over 1.3 million members. These meetings are free and community-based and can connect you with others with similar stories, knowing individuals who you would not otherwise know.
At Restore Health and Wellness Center, we take our clients to twelve steep meetings regularly throughout the week because this is an important part of building your early recovery. If you're interested in an assessment for yourself or someone you know, give us a call at (888) 979-4570 so you can find out if our treatment program is the right fit for you. Visit us at 6918 Owensmouth Ave Canoga Park, CA 91303. 24/7 Admissions (818) 722-9019. On-Site Contact (818) 806-3914.
---