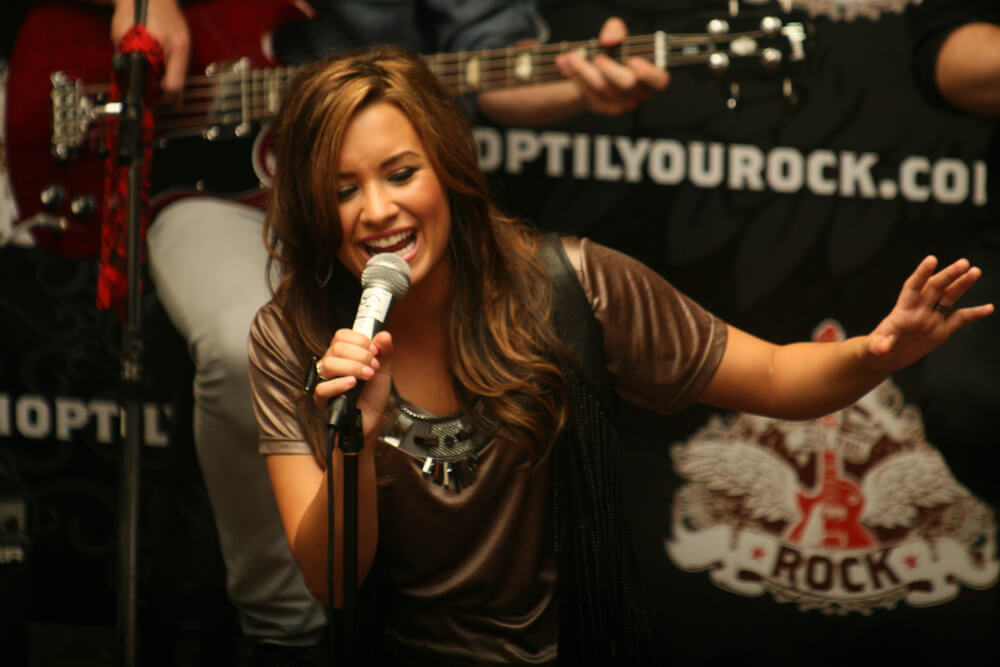 Demi Lovato has never been shy about her long struggle with sobriety. The pop star has remained open with her fans about the complicated relationship between her stardom and the struggles she faces with her drug addiction and eating disorders.
Back in July of 2018, Demi nearly lost her life after suffering a drug overdose at her home in Hollywood Hills, CA. The overdose occurred after the star was just shy of celebrating nearly seven years clean. After being found unconscious by friends, Lovato was revived with Narcan (sometimes called naloxone), a medicine administered to reverse the side effects from an overdose. The singer has admitted that she has previously used cocaine, marijuana, and abused prescription medications like Adderall and Oxycodone.
Surrounded by her closest friends and family, Demi spent nearly 12 days recovering in the hospital following the incident. Once she was discharged, she immediately joined an inpatient drug treatment facility. There she connected with mental health and substance abuse treatment practitioners to tackle the issues that have plagued her for years. Despite money and fame, the star has struggled to maintain a healthy balance between her career and her personal life.
Demi's mother talks about the demons that have haunted her daughter in a 2018 autobiography she published called Falling with Wings. In it, she highlights some of the behaviors Demi's loved ones noticed not long before the singer overdosed. Her mother notes that while on tour, Demi suddenly started lashing out at everyone around her, including members of her team. There were both incidents of verbal and physical abuse, that left those close to Demi feeling unsafe.
It was at this time that her family finally realized that Demi needed a serious intervention regarding her health. The focus needed to shift from her career to getting Lovato the help she desperately required.
Demi tried once before in 2010 to get support for her recovery. She admitted herself into an inpatient rehab facility right outside of Chicago. After three months, she left treatment a much healthier and happier person. But she eventually relapsed and entered a sober living facility.  She remained sober for six years until July 2018, where she came head to head against her addiction once again, and nearly lost the battle.
Despite her struggles, Demi continues to remain hopeful and post messages of encouragement to others fighting substance abuse issues.  In an Instagram post, the 26-year-old singer wrote about how grateful she is to both Alcoholics Anonymous and Narcotics Anonymous for giving her and others unlimited chances to get on the right track for recovery.
She remains proud that she was able to remain sober for six years and is looking forward to continuing the journey now that she has a second chance at life.
She ended her post by reassuring others that it's never too late to start over. Demi eloquently reminded her fans that everyone deserves to live a healthy, happy life but that it's up to us to take the first step.
Today reports state that Lovato is doing well in her recovery efforts and is fully committed to achieving sobriety. She is now working closely with a specialist to focus on her sobriety, mental health, and overall wellness.
Understanding Drug Addiction
Drug addiction or substance use disorder significantly impacts the chemical makeup of an individual's brain and behavior. It also affects the person's ability to reasonably control their use of medication, legal or illegal. People who suffer from substance use disorder continue to use drugs in a harmful way, despite the obvious dangers.
What are the Symptoms and Behaviors Associated with Drug Addiction?
Signs of drug abuse may include:
An urge to use the drug on a regular basis – this refers to daily use or use that occurs multiple times throughout the day.
Using the drug to escape negative thoughts or feelings that make the person feel uncomfortable.
A person may eventually develop a tolerance to the drug. Once this happens, they begin using in higher amounts to gain the same effect.
Using the drug in larger amounts and more frequently than what has been prescribed by a physician.
Continuously spending money on the drug, although the person is unable to afford it.
Failing to meet obligations and responsibilities at work or school.
Isolating yourself from friends and family and cutting back on social activities because of drug use.
Using the drug although it is destroying your relationships with loved ones.
Stealing or engaging in other activities that you normally would not in order to get the drug.
Using the drug even though it is negatively impacting your physical and mental well-being.
Engaging in risky behaviors while under the influence of the drug.
Suffering withdrawal symptoms when the drug is not in your system.
Recognizing Signs of Drug Use in Others
Believe it or not, it can be challenging to tell if someone is simply in a bad mood or is irritable because of drug use. The following is a list of signs to watch out for, which may indicate your loved one is engaging in drug use:
Poor performance at school or work – The person is no longer interested in school or other work-related activities. They routinely miss classes or work, resulting in poor performance.
Sudden changes in behavior – Lying, secretiveness, and irritability — verbal or physical abuse towards others.
Health issues – Rapid weight gain or loss may be the result of drug use.  Another indicator is that a person on drugs commonly lacks energy and motivation.
Financial issues – Requests for money with no indication as to what it will be used for is yet another sign that a person may be using. If you notice that money has suddenly gone missing from your wallet or bank account or that valuable items are starting to disappear, this may be a clue that a person is using.
Messy appearance – A person no longer takes care of their outward appearance and is unconcerned about maintaining proper hygiene.
Recovery is a Process
It is important to keep in mind that for some people, relapse will be an unfortunate reality of their recovery process. Once the wiring in a person's brain has been altered from drug use, these substances will cause cravings that are difficult to control. It can also cause drastic changes in behavior. Those suffering from addiction issues should seek regular counseling and support from groups like Alcoholics Anonymous, or treatment facilities like Restore Health and Wellness Center.
If you or someone you love is also managing substance use disease and other mental health concerns simultaneously, participating in a therapeutic environment can help get you on track to maintaining your sobriety.
If you're ready to get help, give Restore Health and Wellness Center a call at 888-979-4570 to get started. Visit our drug rehab center in Thousand Oaks, CA at 6918 Owensmouth Ave Canoga Park, CA 91303. 24/7 Admissions (818) 722-9019. On-Site Contact (818) 806-3914.
---