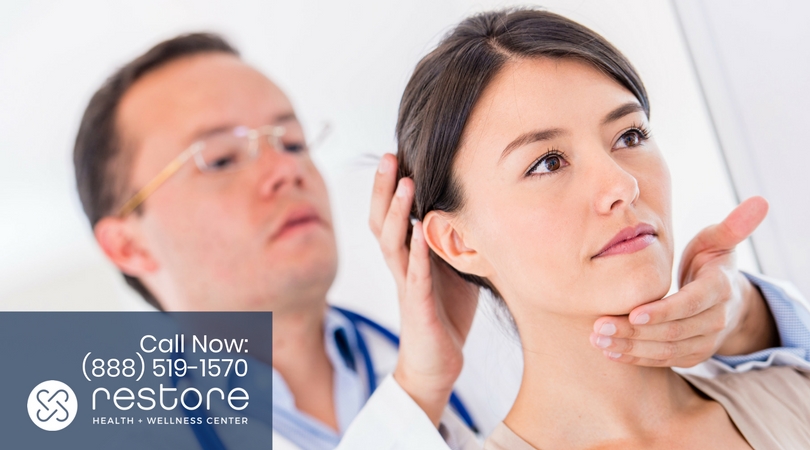 Many people contact us asking: can I see a chiropractor in drug rehab? When an individual enters drug rehab at Restore Health and Wellness, one of the most tell-tale signs of substance abuse can be seen in the physical aspect of an individual. Chronic substance abuse creates a severe deficiency of vital neurotransmitters such as dopamine and serotonin. While these chemicals are essential in maintaining our emotional and psychological well-being, drug and alcohol abuse takes over the production of these important chemicals, and over time the body and the mind of the individual deteriorates.
At Restore Center, one of the most important aspects of our care involves individualized treatment planning for each client. This plan will target the specific needs of restoring an individual's physical, psychological, and spiritual return to health with multiple treatment modalities. Among these types of therapies, clients have the opportunity to partake in chiropractic care.
Chiropractic Care for Addiction Treatment
Chiropractic care focuses on the relationship between the main structures of the body which includes the skeleton, the nerves, and all of the muscle groups. Chiropractors believe that misalignments with these systems called subluxations can cause poor health throughout the body. Subluxations are alterations of vertebrae that occur over a period of time. These misalignments can reduce the ability of the body to function properly.
Chiropractic care for addiction treatment can help body aches and pains and can additionally improve mental health wellness, by mainly focusing on the spine area. This holistic treatment modality is unparalleled in its effectiveness for additionally treating pain from accidents, injuries, and a lifetime of drug and alcohol abuse. When the spin and the nerve structure is properly aligned, neurotransmitters like serotonin and dopamine can be released in a specific sequence which allows individuals to experience and re-create balance in their lives. Our chiropractic care program is specifically designed to help addicts and alcoholics work through the pain in a holistic and natural way.
Benefits of Chiropractic Medicine in Addiction Treatment
Additionally, in drug and alcohol rehab, chiropractic care can help restore the emotional equilibrium. The benefits of chiropractic care in addiction treatment are endless and we've tapped into this holistic approach to healing the physical ailments resulting from substance abuse. In early recovery, especially after one has been detoxified of the toxic alcohol and drugs, they may start to experience a wide range of emotions. Chiropractic services may help to bring an inner sense of calm and can also help an addict achieve clarity of mind. Thus, allowing them to process their thoughts and emotions in a healthy scope.
Another great benefit of chiropractic therapy in addiction treatment is to help alleviate physical pain and discomfort in the early days of one's recovery. There are additional instances where the primary cause of a person's drug abuse begins with chronic nerve pain that further develops into an addiction. This type of modality can help identify and ease the pains. Additionally, chiropractic therapy can offer benefits such as decreased cravings, decreased depression and anxiety, improved mental performance, lower cortisol levels, improved blood circulation, and increased oxygen levels.
To help achieve this type of balance, chiropractors at Restore Health and Wellness utilize a variety of techniques to trigger the spine and skeletal, muscular, and nerve features to restore perfect alignment. When used with other services in drug and alcohol rehab, chiropractic services to help one trudge the road of lifelong recovery can be of maximum benefit to re-establishing a well-balanced life. Visit our addiction treatment center in Calabasas at 6918 Owensmouth Ave Canoga Park, CA 91303. 24/7 Admissions (818) 722-9019. On-Site Contact (818) 806-3914.
Don't wait any longer!
For a drug and alcohol treatment center that truly cares, call Restore Treatment Center today at 888-519-1570
Verify Your Insurance Now
---