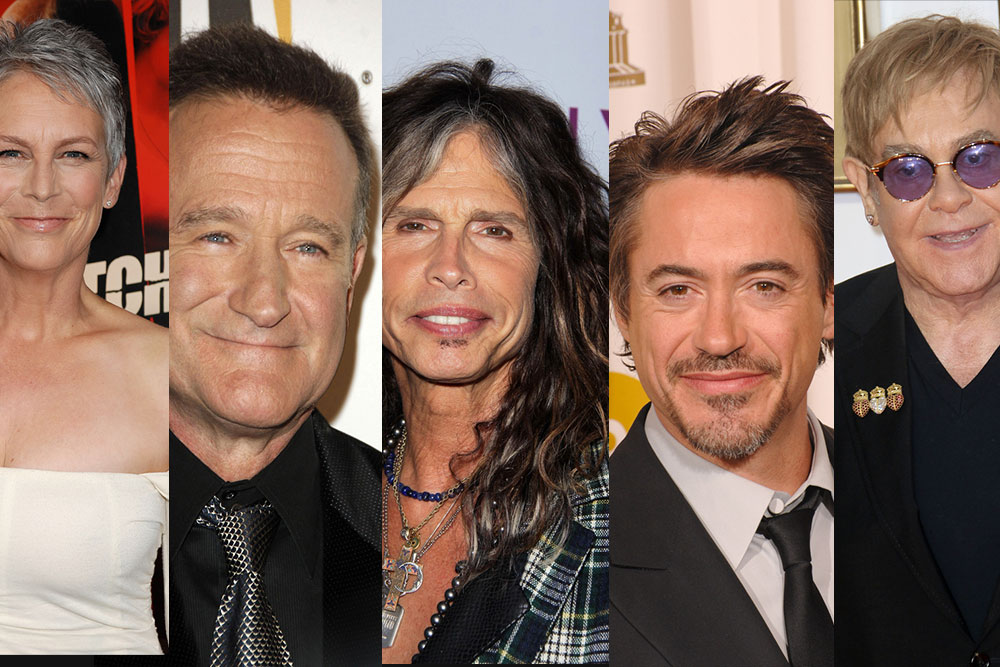 When it comes to battling substance abuse addiction, it is important for the afflicted to keep in mind that they are not alone. Addiction is an extremely personal problem that can easily impact friends, colleagues, and loved ones in ways the user never intended. For this reason, the prospect of tackling it in any meaningful way often leaves the user feeling alone and isolated.
Fortunately, there are tons of success stories out there that should lend some positive encouragement. People from all walks of life share their addiction stories across the Internet, though many people take inspiration from hearing celebrity stories in particular. If you're in need of a little inspiration, here is a list of 5 famous celebrities who battled addiction and won.
Robert Downey Jr.
People under a certain age will likely not remember this, but there was a day where it seemed like Robert Downey Jr. was constantly in trouble. He had been getting high since his adolescence, a habit that got worse after he made it big in Hollywood. Sometime in 1996, he was stopped for speeding and police discovered cocaine, crack cocaine, and heroin in his car. After that, things only got worse: Downey Jr. was discovered by his neighbors passed out on their son's bed. The actor then entered rehab, where he escaped two separate times and was eventually sentenced to 36 months in jail (of which he served less than half).
In addition to being arrested several times for drug possession, Downey Jr. spent several stints in a drug rehabilitation facility before eventually beating his addiction in 2001. When asked about what he does to stave off cravings and put his mind in another place, Downey Jr.'s answer is always the same: lots of yoga, martial arts, and quality time with his wife, Susan Levin.
In regards to the past, Downey Jr. says it is important to acknowledge its significance and not to pretend like it didn't happen. In a Playboy interview from 2010, he stated, "More than anything I have this sense that I'm a veteran of a war that is difficult to discuss with people who haven't been there."
Jaime Lee Curtis
Nearly two decades ago, beloved actress Jaime Lee Curtis shared her struggles with painkiller addiction. Like so many others, Curtis started abusing painkillers after undergoing plastic surgery in 1989. She subsequently battled addiction for the next decade, not informing her husband, acclaimed actor/director Christopher Guest, of her condition until the date of her first recovery meeting, which occurred in February 1999.
The acclaimed Halloween and Freaky Friday actress also admitted that she had an occasional drinking problem, which she claimed helped her combat existential loneliness. In 2010, Curtis told the hosts of the Today Show that her "recovery is the single greatest accomplishment of my life. Without that, the rest of my life would have fallen apart… Recovery is an acceptance that your life is in shambles and you have to change it. I was lucky, I didn't have to lose anything."
Robin Williams
Many people do not know this, but the late Robin Williams struggled with substance abuse addiction throughout the 1980s. Williams cited the overdose of his friend and fellow comedian John Belushi as one of the primary reasons he decided to seek treatment. The other reason, he confessed, was the birth of his child.
However, Williams' experience serves as somewhat of a cautionary tale for those battling substance abuse addiction. After nearly two decades of sobriety, Williams entered a rehab facility once again, this time for alcohol abuse. In a 2006 interview with Diane Sawyer he offered some particular poignant insight: "You think people don't notice. Then you find out later, 'We knew. You went outside naked.' No, I didn't…Humiliation gives you humility."
This gets at one of the biggest problems in addiction recovery. It often takes functional addicts some time to realize they have a problem, and even longer to admit it to others and seek treatment. This is because they view themselves as capable and productive, and therefore do not acknowledge that their addiction has any negative impacts on their life.
Elton John
Elton John's substance abuse addiction problem began all the way back in 1974. After using cocaine for the first time, the acclaimed pop star fell into a downward spiral of drug addiction and alcohol abuse that eventually led to eating disorders and suicide attempts. By 1990, however, he decided it was time to clean up his act. In a 2018 interview, the singer said that the hardest part about battling addiction is asking for help, which is something thousands of addicts struggle with on a daily basis.
Steven Tyler
Aerosmith frontman Steven Tyler is no stranger to drug abuse. After first entering rehab for cocaine and heroin abuse in 1986, he kicked the habit for a few years but eventually returned to his old ways. Nearly two decades later, in 2009, Tyler checked himself into rehab for a second time, this time to battle addiction to painkillers, and has maintained sobriety ever since. When asked about how he maintains sobriety, Tyler talked about the importance of keeping yourself busy and doing what you love.
Do you or a loved one have a substance abuse problem? If so, Restore Health and Wellness is here to help. They offer a variety of treatment programs and accept most major insurance companies. Don't hesitate to get the help you need today. Visit our addiction treatment center in Encino, CA at 6918 Owensmouth Ave Canoga Park, CA 91303. 24/7 Admissions (818) 722-9019. On-Site Contact (818) 806-3914.
---